---
About EPSF
Egyptian Pharmaceutical Students' Federation (EPSF) is a non-governmental and non-profit pharmacy students' organization. It was founded in 1982. EPSF works under supervision of the Egyptian Pharmacists Syndicate and the International Pharmaceutical Students' Federation (IPSF) to promote and improve public health through provision of information, education, networking and a range of publications and professional activities. EPSF now represents more than 58,000 pharmacy students and recent graduates in 32 schools of pharmacy.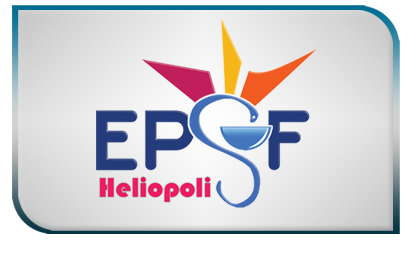 About EPSF-Heliopolis
EPSF Heliopolis is  a full member of the EPSF and one of its 32 associations. It was founded in Heliopolis university in February 2013. Its main role is to create professional pharmacy student who is able to improve himself/herself anywhere.
EPSF-Heliopolis Achievements
– Received  "We Have The Passion To learn" Moral award.
– Hosting EPSF Semi General Assembly in 2014.
– Hosting "Step on the Way" course for two years (2016 and 2018) which was attended by seven universities and in cooperation with many companies.
– Hosting EPSF National Patient Counseling Competition in 2015.
– Hosting the regional national interviews of the Student Exchange Program in 2017.
– Participating in many scientific conferences related to EPSF and IPSF.
– Hosting different national workshops.
– Establishing a book club.
– Organizing Ramadan Iftar for two years.
EPSF Heliopolis Executive Board
High Board:
President: Walaa Atallah
Secretary General: Nora Abo Msalam
Treasurer: Moustafa El Esnawy
Executive Committees (Projects Oriented):
Public Health Chairperson: Mostafa Ashraf
Continuous Education Chairperson: Mohamed Abd Elazem
Professional Development Chairperson: Nadeen Anwar
Students Exchange Officer: Omnia Ashraf
Administrative/Supportive Committees:
Marketing Director: Nahed Mohamed
Internal Relations Chairperson: Hanan Hosam
External Relations Chairperson: Alaa El-deen Fadaly
Media & Publications Chairperson: Nada Alaa El-Dien
Logistics and Organizing Committee Chairperson: Ahmed  Mohamed Hassona
EPSF Heliopolis Activities
EPSF-Heliopolis are involved in many social, scientific and cultural activities and projects that aim to serve the community. They also arrange events and sessions to share knowledge and experience. These activities include the English Club, Step on the Way, blood donation campaigns, pharmacy profession awareness campaigns, book clubs and many others.