The Faculty of Physical Therapy promotes excellence and leadership in the field by offering pioneering and advanced curricula that relate to modern techniques in physical therapy, biomechanics, and medical and natural sciences. In addition, clinical training and accredited internships are provided to help students gain experience in their profession, which is enhanced by the Core Program sustainability studies.
Vision and Mission
Vision
The Faculty of Physical Therapy strives to achieve a sustainable and holistic approach towards healing and physical therapy that encourages patients to take an active role in their own health management, long-term wellbeing, and overall disease prevention for a healthier Egyptian society.
Mission
The Faculty of Physical Therapy pioneers a state-of-the art approach towards teaching and researching the field of physical therapy that heals and integrates the mind, body, and energy of the patients in a way that reflects their real needs and problems and solves them in a sustainable and continuous way.
Academic Courses
The specialized academic courses of the Faculty of Physical Therapy enable students to develop the scientific knowledge and understanding of this medical field. In addition, these courses enhance the professional, practical, intellectual, and general skills necessary for practice competence of physical therapy and lifelong professional development by covering the following areas of study:
– Musculoskeletal and neuromuscular disorders and surgeries.
– Women's health and pediatrics disorders and surgeries.
– Cardiopulmonary, vascular, and geriatrics disorders and surgeries.
– Dermatological disorders and burns.
– Clinical nutrition and phytotherapy.
– Ergonomics
– Handicaps rehabilitation
The Core Program courses are considered an integral part of the academic curricula in the Faculty of Physical Therapy. These courses promote the study of nature sciences, social sciences, humanities, languages, and arts aiming to develop the students' learning and professional experiences.
Scientific Departments
The scientific departments of the faculty are:
– Basic Sciences and Biomechanics
– Physical Therapy for Internal Medicine and Neurology.
– Physical Therapy for Women Health and Pediatrics.
– Physical Therapy for Orthopedics and Surgery.
Apply Now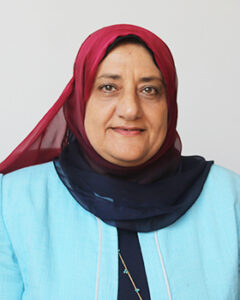 Prof. Dr. Hala M. Ezz El Dein Hamed is a Physical Therapy Professor since 2008. She received her BSc, MSc, and PhD degrees from the Faculty of Physical Therapy at Cairo University .Her researches focus on Cardiopulmonary Rehabitation, in particular patients with chronic respiratory disorders and the field of scientific research for elderly subjects. Read More..