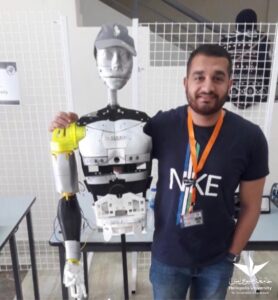 Heliopolis University together with Badr University won the third place in the scientific competition that Badr University organized last month for engineering and technology projects developed by engineering students of different Egyptian universities.
The project that won the third place is an on- wheels humanoid assistant robot that is used to do any mission a human can do to help others. It is integrated with an IoT system that enables it to do tasks remotely like data analyses, data gathering, and data sharing all on cloud.
It also functions as a home security robot that updates home owners about what's going on in their houses while they are away.
The project was developed by Bahgat Hafez, Ali Heiba, and Omar Zaafarany.
Heliopolis University participated in this competition with three projects; the humanoid robot, tour-guiding robot, and the electric vehicle.
The tour-guiding robot was developed by Abdel Rahman Farag, Omar Ashraf, and Alhussein Shaaban. It was essentially designed to welcome the Mechatronics lab visitors at the Faculty of Engineering building and guide them through their way.
The Electric vehicle was designed by Mohamed Fouad, Mohamed Alabrash, and Amr Abdelaleim.