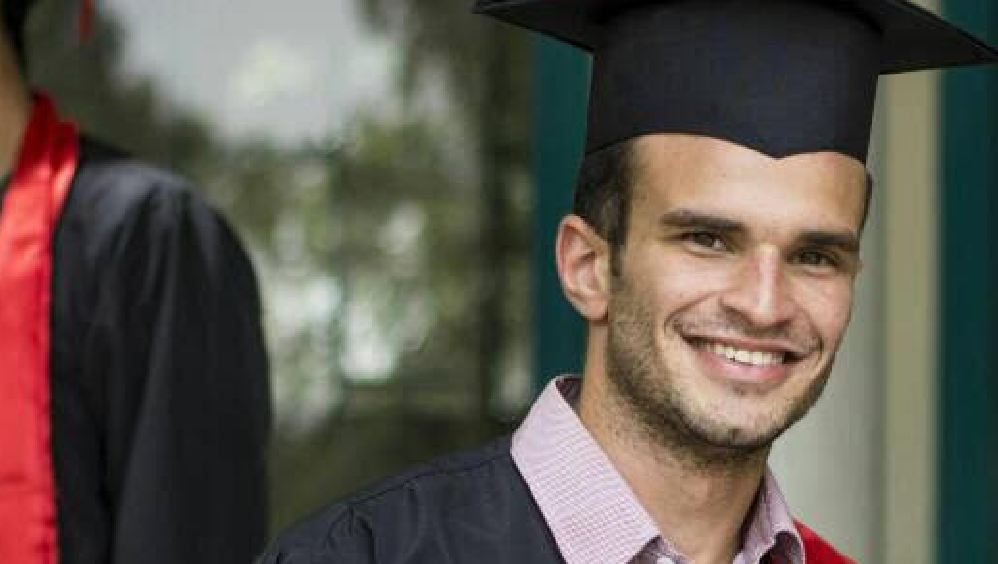 Ahmed Refaat is one of the most familiar faces and often seen across the campus of Heliopolis University for Sustainable Development. Probably, that is because he is the head of the students union, but also because he is one of the most active students at Heliopolis University. Ahmed Refaat, the "pharmacist to be". He is proud of his achievements and shows us a big smile. The 23-years-old is a senior student at the faculty of Pharmacy at Heliopolis University and is looking forward to his graduation within a few months.
His story with the University began with a coincidence. While reciting it, an obvious excitement and passion pop up in his voice.
Changing direction brings new chances
On their way to apply to another university, Ahmed and his father noticed the signboard of Heliopolis University on the road. "At that moment, I decided to change our direction and go there to check it," Ahmed recalls. "At Heliopolis University, I found a unique atmosphere – green areas everywhere with a special landscape architecture." Also Mr. Refaat, Ahmed's father became confident about how suitable the Heliopolis University would be for his son. "He was very excited about it, when he knew that Dr. Abouleish is the founder," the senior student recounts. "Dr. Ibrahim Abouleish is well-known in Europe as one of the leaders in sustainable development. My father heard a lot about him during his stay there" he says.
Leading the student union for two years
"It is not only about the system that differs Heliopolis University from others. It is the way that we, as students find support and chances here," the committed student states. Ahmed has been the president of the students union for two years in a row. Besides, he participated in huge projects supported by the university, "which pushed me more to work on myself," Ahmed asserts. "Especially, the core program has made me learn how to be a better version of myself," Ahmed tells while explaining how everyone in his close circle had noticed this change since his enrollment at Heliopolis University. "Accordingly, all credit goes to the core program and its holistic vision," says the passionate student, who spent almost five years studying at the Heliopolis University. The Core program of Heliopolis University is part of the courses dedicated to sustainable development, which is introduced all the students. Through the core program, the university fosters cultural and social education. Ahmed Refaat aims to serve his community and to develop it sustainably: following the vision of Dr. Ibrahim Abouleish. With deep gratefulness he says: "I wish that all students at Heliopolis University could really value and appreciate what the university is offering. And hence, that they would contribute efficiently to realize the vision of sustainability for us and the world."
Marwa Nagib