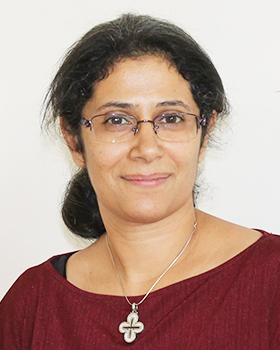 Dr. Dina Louis Nassif is an Associate Professor of Pharmaceutics and Industrial Pharmacy at the Faculty of Pharmacy and Drug Technology in Heliopolis University for Sustainable Development. She earned her PhD in Pharmaceutics and Industrial Pharmacy at Cairo University in 2008.
Dr. Nassif's research interests include drug delivery and targeting by applying the most advanced technologies in addition to developing existing products and delivery systems. She has been recently working on a project about the delivery of natural products into body tissues using nanotechnology.
Dr. Nassif has been awarded the International Publication Award for years 2015 and 2016 in Cairo University. She has published many research articles in the field of pharmaceutics and industrial pharmacy including:
Solving manufacturing problems for L-carnitine-Ltartrate to improve the likelihood of successful product scale-up, Aliaa A. Badawi, Mahmoud M. Hegazy, Dina Louis, Mohammed A. Eldegwy.  Acta Pharmaceutica 67 (2017), 511–525.
Formulation and Evaluation of Nanocrystals of a Lipid Lowering Agent, Dina Louis, Iranian Journal of Pharmaceutical Sciences 2016, 15 (1): 71-82
Leflunomide biodegradable microspheres intended for intra-articular administration: Development, anti-inflammatory activity and histopathological studies, Doaa Ahmed El-Setouhy, Nevine Shawky Abdelmalak, Shady E. Anis and Dina Louis, International Journal of Pharmaceutics 2015, 495: 664–670
Formulation of Ketotifen fumarate fast melt granulation sublingual tablet, Saadia A Tayel, Iman I Soliman, Dina Louis,  AAPS PharmSciTech., 2010, 11 (2): 679-685.
Improvement of dissolution properties of Carbamazepine through application of the liquisolid tablet technique, Saadia A Tayel, Iman I Soliman, Dina Louis, European Journal of Pharmaceutics and Biopharmaceutics , 2008, 69: 342-347.