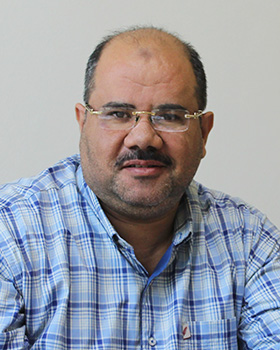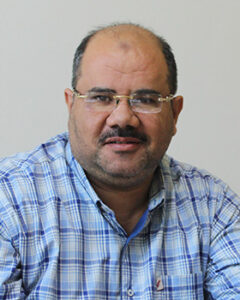 Dr. Khaled El-Adl is a Professor of Pharmaceutical Chemistry and Drug Design and Head of the Pharmaceutical Chemistry Department in the Faculty of Pharmacy and Drug Technology in Heliopolis University for Sustainable Development. He earned his bachelor's degree in 1998, his master's in 2004, and PhD in 2009 from Al-Azhar University.
Before joining Heliopolis University, Dr. El-Adl has been an Associate Professor of Pharmaceutical Chemistry and Drug Design in Nahda University in Beni Suef. From October 2014 till January 2018, he held the same position in Al-Azhar University. In addition, he is currently the Manager of Pharmaceutical Analytical Unit at Al-Azhar University and Consultant in the Quality Committee of Central Administration of Pharmacists Affairs for licensing of Virus C and Cancer Medications.
Dr. Al-Adl is a reviewer of many scientific journals such as: Al-Azhar journal of Pharmaceutical Sciences, Journal of Chemical Biology and Therapeutics, Organic Chemistry: Current Research, International Journal of Pharmaceutical Sciences and Developmental Research, and Research on Chemical Intermediates. He also attended many scientific conferences including:
Al-Azhar International Conference of Pharmacy and Biotechnology Dec. 19-21, 2004.
Al-Azhar 4th International Conference for Pharmaceutical and Biological Sciences, Feb. 13-15, 2006.
The 7th National TEMPUS Day – the 5th TEMPUS Projects Forum (2009).
Best poster in the 13th IBN SINA International Conference on Pure and Applied Heterocyclic Chemistry- Heterocyclic Chemistry for Sustainable Future 2015 (Department of Chemistry – Faculty of Science – Sohag University).
13th International Conference on Chemistry and its Role in Development 2017 (Department of Chemistry, Faculty of Science, Mansoura University).
Al-Azhar 5th International Conference of Pharmaceutical Sciences and Drug Industries (AICPD) 2017.
Publications:
El-Helby AA, Ibrahim MK, El-Zahaby MAA, Monir AA, El-Adl K. Synthesis and Anticonvulsant Activity Of Some New derivatives of benzoxazole-2-thiol, Egypt J. Biomed. Sci., (2003);11:60-73,.
El-Helby AA, Ibrahim MK, Abdel-Rahman AA, Ayyad RRA, Menshawy MA, El-Adl K. Synthesis, molecular modeling and Anticonvulsant Activity of benzoxazole derivatives, Al-Azhar J. Pharm. Sci., (2009);40:252-270.
Ibrahim MK, Abdel-Rahman AA, Ayyad RRA, El-Adl K, Elsherbeny F, Rashed M. Design and Synthesis of Some Novel N-Phthalimide derivatives With Potential Anticonvulsant Activity, Al-Azhar J. Pharm. Sci., (2010);42:305-322.
El-Adl K. Design and Synthesis of Some Novel 2-(5-Methyl-Benzoxazole-2-ylsufanyl)-N-(4-substitutedphenyl)-acetamide derivatives with Potential Anticonvulsant Activity, Al-Azhar J. Pharm. Sci., (2011);44:305-322,.
Ibrahim MK, El-Adl K, Al-Karmalawy AA. Design, synthesis, molecular docking and biological evaluation of some novel Quinazolin-4(3H)-one derivatives as anti-inflammatory agents. Azhar Pharm. Sci. (2012);46:185-203.
Zayed MF, Ahmed HEA, Omar AM, Abdelrahim AS, El-Adl K. Design, synthesis, and biological evaluation studies of novel quinazolinone derivatives as anticonvulsant agents. Medicinal Chemistry Research (2013);22(12):5823-5831.
Ibrahim MK, Abd-Elrahman AA, Ayyad RRA, El-Adl K, Mansour AM, Eissa IH. Design and synthesis of some novel 2-(3-methyl-2-oxoquinoxalin-1(2H)yl)-N-(4-(substituted)phenyl)acetamide derivatives for biological evaluation as anticonvulsant agents. Bulletin of Faculty of Pharmacy, Cairo University (2013);51:101-111.
Ibrahim MK, El-Adl K, Zayed MF, Mahdy HA. Design, synthesis and biological evaluation of some novel 5-chloro-2-substitutedsulfanyl-benzoxazole derivatives as anticonvulsant agents. Medicinal Chemistry Research (2015);24:99–114. DOI: 1007/s00044-014-1111-0
Ibrahim MK, El-Adl K, Al-Karmalawy AA. Design, synthesis, molecular docking and anticonvulsant evaluation of novel 6-iodo-2-phenyl-3-substituted-quinazolin-4(3H)-one Bulletin of Faculty of Pharmacy, Cairo University (2015);53:101–116. DOI: 10.1016/j.bfopcu.2015.05.001
El-Helby AA, Ayyad RRA, El-Adl K, Sakr H, Abdel-Rahman AA, Essa IH, Elwan A. Design, molecular docking and synthesis of some novel 4-acetyl-1-substituted-3,4-dihydroquinoxalin-2(1H)-one derivatives for anticonvulsant evaluation as AMPA-receptor antagonists. Medicinal Chemistry Research (2016); 25:3030–3046. DOI: 1007/s00044-016-1723-7
Abulkhair HS, El-Gamal KM, El-Adl K, Fadl MF. Molecular Docking, synthesis and biological evaluation of some novel 2-substituted-3-allyl-4(3h)-quinazolinone derivatives as anticonvulsant agents. Med Chem (Los Angeles) 2016; 6(9): 593-603. Doi:4172/2161-0444.1000404
Zayed MF, Ihmaid SK, Ahmed HEA, El-Adl K, Asiri AM, Omar AM. Synthesis, modelling, and anticonvulsant studies of new quinazolines showing three highly active compounds with low toxicity and high affinity to the GABA-A receptor. Molecules (2016); 22(188):1-15. DOI:3390/molecules22020188
El-Helby AA, Ayyad RRA, Sakr H, Abdel-Rahman AS, El-Adl K, Elsherbeny F, Essa IH, Khalifa MM. Design, synthesis, molecular modeling and biological evaluation of novel 2,3-dihydrophthalazine-1,4-dione derivatives as potential anticonvulsant agents. J Molecular Structure (2017);1130:333-351. DOI: 1016/j.molstruc.2016.10.052
El-Helby AA, Ayyad RRA, El-Adl K, Elwan A. Quinoxalin-2(1H)-one derived AMPA-receptor antagonists: Design, synthesis, molecular docking and anticonvulsant activity. Medicinal Chemistry Research (2017); 26:2967– DOI: 10.1007/s00044-017-1996-5
El-Helby AA, Ayyad RRA, Sakr H, El-Adl K, Mamdouh MA, Khedr F. Design, Synthesis, Molecular Docking, and Anticancer Activity of Phthalazine Derivatives as VEGFR-2 Inhibitors. Arch. Pharm. Chem. Life Sci. (2017):350:1-16. DOI: 1002/ardp.201700240
El-Helby AA, Ayyad RRA, Sakr H, El-Adl K, Mamdouh MA, Khedr F. Design, synthesis, in vitro anti-cancer activity, ADMET profile and molecular docking of novel triazolo[3,4-a]phthalazine derivatives targeting VEGFR-2 enzyme. Anticancer agents in Med. Chem. (2018):18; DOI: 2174/1871520618666180412123833
El-Helby AA, Ayyad RRA, El-Adl K, Hazem Elkady. Phthalazine-1,4-dione derivatives as non-competitive AMPA-receptor antagonists: Design, synthesis, anticonvulsant evaluation, ADMET profile and molecular docking. Molecular Diversity (2018): 1-6 DOI: 1007/s11030-018-9871-y