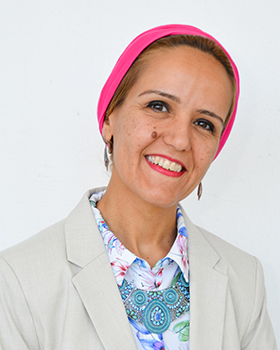 Dr. Heba Mosalam is an Assistant Professor of  Energy program at the Department of Electromechanics, Faculty of Engineering, Heliopolis University for Sustainable Development. She is the Manager of Labs and Workshops and responsible for the internships and community service at the same university 
Dr. Mosalam earned her bachelor's degree in production mechanical engineering in 2000 at Ain Shams University. Her graduation project was around the effect of the electromagnetic field from mobile phones on computerized machines. She earned her master's degree in renewable energy application in 2006 and her Ph.D. in environmental engineering in 2012 at the Faculty of Environmental Studies and Research, Ain Shams University.
Her research interests focus on:
Field of experiences: Heat and Mass Transfer

Renewable energy applications

Energy, water, and food Nexus researches

Payback period for renewable project

Energy efficiency inside buildings

Hybrid renewable energy systems

On/off-grid renewable energy sources

Green buildings

Active and passive solar applications

Cooling and heating solar systems

Natural materials to thermal insulations and acoustics inside buildings

Energy simulation with life cycle assessment LCA software.

Reverse Engineering

Solar thermal applications

Noise and thermal control inside buildings

Irrigation methods with renewable energy and solar pumping 
Dr. Mosalam has been working on several scholarly projects including:
Tempus Project
Responsibilities
GIEP 

(

Green Innovation and Entrepreneurship Programme)

Project Coordinator and Sustainable Action Committee Manager

TriNex 

(Food-Water and Energy Triangle)

Pilot Project in Heliopolis University Manager- On-grid PV system for RO

CLIMASP 

(Climate Change and Sustainability Policy)

University representative to modify the syllabus approaches consistent with the project

EOS1

 Application Project

Project Manager to install donation project at Heliopolis university.
 She has also instructed and delivered several training courses such as
Date of Training        
Training Centre
Subject
Duration
June 2014

ICE Cairo

LEED

1 Day

Winter 2015

Heliopolis University Training Center

Austrian Development Corporation for Solar Application

7 Days

Summer 2014

Heliopolis University Training Center

Concentrating Solar Generation Plants

5 Days

October 2014

TU Graz University

, Austria

Training on Renewable Energy GEIP Project

5 Days

April 2015

The University of Jordan

, Jordan

Global Warming into University curricula

6 Days

November 2016

Politecnico di Milano

, Milano, Italy

TriNex module I for renewable energy

13 Days

May 2016

Agropoly –Montpillier, France

TrinNex module II for Food

13 Days

September 2016

Aachen University

, Germany

TriNex module III for Water

7 Days

November 2016

STS-mid

Solar Thermal and Solar Cooling

4 Days

February 2016

ADA-Solar

Solar Thermal

7 Days

April 2018

Staff Mobility

Renewable Energy

7 Days
Dr. Mosalam is an official reviewer for "Renewable Energy and Sustainable Development Journal" (RESD), ISSN: 2356-8569/pISSN: 2356-8518 supported by DOI from CrossRef. She has been a Project Manager for EOS1 application, an Italian sponsored project to construct a Thermal Photo Voltage System. She is also a team member of the following programs:
Knowledge Triangle Platform for the Water-Energy-Food Nexus TRINEX 544397-TEMPUS-1-2013-Program-JPHES (2014 – present).

Green Innovation and Entrepreneurship Program GIEP 530611-TEMPUS-1-2012-Program-JPCR (2014 – present).

Climate Change and Sustainability Policy Program CLIMASP. 543879-TEMPUS-1-2013-1-GR-TEMPUS-JPCR (2014 – present).
And following up the current projects: 
| | | |
| --- | --- | --- |
| Name of Project | Description / Objective | Funding Authority |
| 13 villages Development  | The higher education ministry requirement. The area problems and engineering vision to solve with the help of engineering departments. Find different sources of projects fund    | SEKEM  |
| Devilage & surmap  | Instructor at the courses of renewable energy applications  | Erasmus plus, European union   |
| Greening the Desert  | Covert the desert in Bahariya Oasis into green farm operated with sources of renewable energy  | SEKEM group  |
| HU 100% renewable  | Production of 200kw from photovoltaic PV  | SEKEM  |
In addition, Dr. Mosalam is currently a Certified Translator in EcoMENA –Echoing Sustainability for environmental issues and a member of the Environmental Committee at the Ministry of Culture, Cairo.
Dr. Mosalam has scholarly contributed the following publications:
Technical Papers:
M. Louzazni and H.

Mosalam

, "Dailly Forecasting of Photovoltaic Power Using Non-Linear Auto-Regressive Exogenous Method," 

2020 International Conference on Decision Aid Sciences and Application (DASA)

, 2020, pp. 1016-1020, DOI: 10.1109/DASA51403.2020.9317071.

IEEE XPLORE 

M. El-Barad, Heba.A

Mosalam

, A.Hassan, P. Riad. 2020. "Groundwater Data Collection and Analysis in Bahariya Oasis."

International Journal of Engineering and Advanced Technology (IJEAT)

August Volume 9 (Issue 6): Pages 552-554. ISSN: 2249-8958. https://doi.org/10.35940/ijeat.F1642.089620.

Louzazni, Mohamed, Ahmed Khouya, and Heba

Mosalam

. 2020. "Comparison of Power Production for Different Photovoltaic Technologies in Nile Delta, Egypt."

Procedia Manufacturing

46: 724–29. https://doi.org/https://doi.org/10.1016/j.promfg.2020.03.102.

Louzazni, Mohamed, Heba Mosalam, and Ahmed Khouya. 2020. "A Non-Linear Auto-Regressive Exogenous Method to Forecast the Photovoltaic Power Output."

Sustainable Energy Technologies and Assessments

38 (April): 100670. https://doi.org/10.1016/j.seta.2020.100670.

Mosalam

, Heba; Hassan, Mohamed. 2020. "Performance Evaluation for the Parabolic Photovoltaic/Thermal Hybrid Solar System." In

Proceedings of the FRUCT'26 Yaroslavl, Russia, FRUCT Oy, Finland

, 583–88. ISSN 2305-7254, ISBN:978-952-69244-2-7. https://fruct.org/publications/acm26/files/Mos.pdf.

Mosalam

, Heba Ahmed, and Mohamed El-Barad. 2020. "Design of an Integration Platform between the Water-Energy Nexus and a Business Model Applied for Sustainable Development."

Water Science and Technology : A Journal of the International Association on Water Pollution Research

81 (7): 1398–1405. https://doi.org/10.2166/wst.2020.212.

6

th

international conference for smart grid, Nagasaki, Japan. December 2018. Heba A.

Mosalam

"Evaluation Study Design and Operated using Building Integration Photo-Voltage". Proceeded with IEEEXplore 2019 

Mosalam

, Heba Ahmed, and Mohamed El-Barad. "Design an Integration Platform Between Water-Energy Nexus and Business Model Applied for Sustainable Development." In

Frontiers in Water-Energy-Nexus—Nature-Based Solutions, Advanced Technologies and Best Practices for Environmental Sustainability

, edited by Vincenzo Naddeo, Malini Balakrishnan, and Kwang-Ho Choo, 481–84. Cham: Springer International Publishing.

https://doi.org/10.1007/978-3-030-13068-8_120

.

Heba

Mosalam

. "Best Applied Research, Cairo Water Week" November 2019 "Experimental Investigation of Temperature Effect on PV Monocrystalline Module",

Heba Mosalam

, International Journal of Renewable Energy Research. IJRER2018, p 350-358

"MATLAB Model for Noise Control in Multipurpose Building" Mansour El–Bardisi

,

Heba A Mosalam

, and Hossam El-Borombally. Journal of Environmental Sciences, Vol.(9) No. 6 February 2012. ISSN 1110-0826.

Global Climate Change Diversity and Sustainability GCCBS 2013 in Alexandria,

Heba Mosalam

, H. Elbroumbaly. "Apply Green Materials for Noise Control in Buildings -with Simulation of Matlab"p:430-439.

International Building Simulation Association IBPSA 2013 in Cairo,

Heba.Mosalam

" How to convert your home to work with PV" poster 

1

st

 Future University International Conference on New Energy & Environmental Engineering "ICNEEE", 

Heba Mosalam

"Evaluation tests for a parabolic trough linear CPVT system in Egypt", 2016

International Sustainable Built Environment Conference (SBE16)-Cairo, Impact of dusty weather on the power output of Solar Cells on Commercial Roof-top PV Systems in Egypt. 2016 
1

st

 IUGRC International Undergraduate Research Conference,

Military Technical College, Cairo, Egypt, "

Design & Simulation of a New Renewable Energy Plant for the New Egyptian Capital". July 2016. 
6

th

International Conference On Chemical, Agricultural, Environmental And Biological Sciences, December 2017 Paris-France." Adequate Design for Aquaponic with Case Study",

ISBN: 978-81-934174-7-8

. 

"Design & Control of an Agriculture Photovoltaic Reverse Osmosis Desalination System Case Study Heliopolis University" 

Hady F. Habib, 

Heba A. Mosalam

 and 

Rasha M.S. El-Kholy

, 

Best Paper Award, TriNex Knowledge-Triangle Platform for the Water-Energy-Food WEF-Nexus 544397-TEMPUS-1-2013-1-IT-TEMPUS (

https://www.trinex.eu/trinex-best-paper-award-2/

)
More researches and publications with citations on research gate 
https://www.researchgate.net/profile/Heba-Mosalam
Auditing and Review activities:
Scientific Reviewer at RESD Renewable Energy and Sustainable Development International Journal, eiSSN:2356-8569, piSSN: 2356-8518. Support by: a DOI from CrossRef.
National and International Conferences Papers and Posters:
Global Climate Change Diversity and Sustainability GCCBS 2013 in Alexandria with paper of "Apply Green Materials for Noise Control in Buildings -with Simulation of Matlab"p:430-439.

International Building Simulation Association IBPSA 2013 in Cairo with poster

"How to convert your home to work with PV".

Building Simulation in Cairo 2013 SB13-2013"

 The Use of Agricultural Residues in Acoustics Insulation", p 493-502.
1stFuture University International Conference on New Energy & Environmental Engineering "ICNEEE", 

Evaluation tests for a parabolic trough linear CPVT system in Egypt. 2016

International Sustainable Built Environment Conference(SBE16)-Cairo

, Impact of dusty weather on the power output of Solar Cells on Commercial Roof-top PV Systems in Egypt. 2016

1

st

IUGRC International Undergraduate Research Conference, Military Technical College, Cairo, Egypt, "Design & Simulation of a New Renewable Energy Plant for the New Egyptian Capital". July 2016.

6th International Conference on Chemical, Agricultural, Environmental and Biological Sciences

, December 2017 Paris-France." Adequate Design for Aquaponic with Case Study", 

ISBN: 978-81-934174-7-8