There's a reason Heliopolis University has a keen interest in exchange programs. 
HU aims to cooperate with the most progressive and most innovative universities in the world that are suitable to contribute to solutions of the challenges we now face. This results in a unique blend of partnerships with national and international universities, with whom we can now offer incredible opportunities to experience life, work, and study alongside regular research and studies. Therefore, we are happy to deepen our cooperation with one of the finest universities in the area of agriculture, worldwide, the Swedish University of Agricultural Sciences – SLU and offer further staff and now also student exchange opportunities.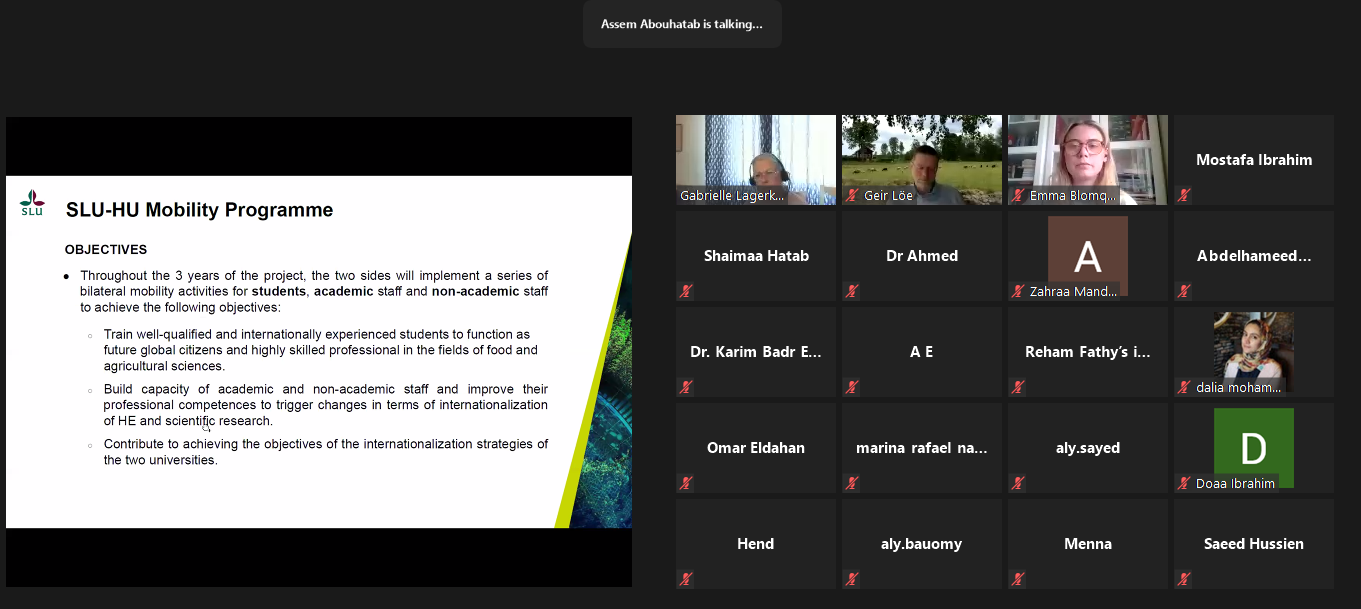 To promote this, SLU recently cooperated in a webinar that was organised by the International office at HU. During the webinar, SLU presented the new ERASMUS mobility program and the exchange opportunities that were granted by the EU as a result of a joint application with HU. SLU presented the studies they are offering and the SLU Research interests that researchers pursue in areas relevant to HU. It was interesting to see different cultural angles.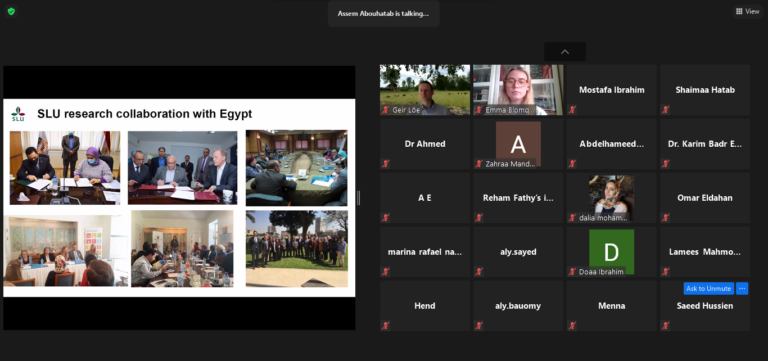 Although, it has been a turbulent semester, with distance learning and many restrictions due to COVID-19. The webinar delivered many points, but the most crucial part was that we will not leave the pandemic effect on our international relations and exchange program. 
We believe it will be a fruitful collaboration since our missions are very much aligned with each other.
Special thanks to Assem Abu Hatab, Associate Professor, Department of Economics, SLU. Coordinator for Global Development at NJ Faculty, SLU Global, SLU 
International Affairs
Gabrielle Lagerkvist, International Officer at the Division of Educational Affairs; International Mobility Unit. 
Geir Löe, International Officer at the Division of Educational Affair. Yasmin Abass, International Relations Officer of Heliopolis University for Sustainable Development and Sigward von Laue, President of Research and International Affairs, to provide better opportunities to develop HUSD staff and students.
We had the pleasure of meeting amazing people, building a solid network, and exchanging with top industry experts.