For their safety and comfort, Heliopolis University offers a reliable and efficient bus service for its students and staff members. Our fleet of air-conditioned buses has over 15 different routes that serve three governorates: Cairo, Sharqia, and Ismailia. We continuously expand our service with growing ridership.
The transportation fleet is highly equipped with modern air-conditioned buses that transmit students and staff members to and from the university campus. The current routs serve the following areas: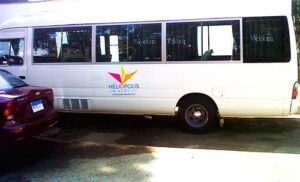 Cairo:
Heliopolis
Nasr City
First and Fifth Settlement, New Cairo
Al Rehab City
Madinaty
Obour City
Abbassia
El-Haram
Ramses
Mohandessein
Sharqia:
Zagazig
Abu Hammad
Belbeis
Menya El Qamh
10th of Ramadan
Ismailia
Ismailia Governorate Headquarters
Annual Subscription Fees
Belbeis, Benha, and 10th of Ramadan: 7,000 LE
Zagazig and Abu Hammad: 7,500 LE
All Cairo Routes: 7,500 LE
Ismailia: 7,750 LE
Menya El Qamh: 8,000 LE
For more information about the routs and meeting points, please visit our Students Services Office at the Students Affairs Building or call Mr. Ahmed Nassar 01200540062.