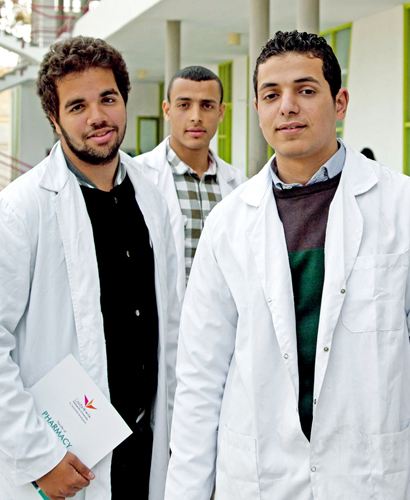 Thank you for considering HU as a university for your child's education. We are very proud to present you a truly innovative and high-class establishment and hope to have you visit soon.
HU is a non-profit institution that aims to provide students with the knowledge and the ability to contribute to the sustainable development of Egypt and the world. HU is fully accredited by the Supreme Council of Universities in Egypt. It also complies with the Egyptian National Academic References Standards (NARS). Additionally, all courses are compliant with the European Credit Transfer Systems (ECTS), allowing for maximum international mobility.
Faculties
For the initial phase (academic year 2012-2013), three faculties offer degrees at the bachelor level, all addressing sustainable development. Further faculties, Master and PhD programs will be added in the next phases. The current faculties are:
B.Sc. Business and Economics
B.Sc. Energy Engineering
B.Sc. Water Engineering
B.Sc. Mechatronics Engineering
B.Sc. Architecture  Engineering
All students, regardless of their field of specialization or their specific majors, will be engaged in a core program.  This core program is designed to build our students' characters and to provide them with the foundation needed for grasping education for sustainable development concepts. This core is composed of courses on:
Nature and Community
Arts, Culture, and Development
Science and Innovation
Language, Communications, and Enterprise
Internships
Heliopolis University offers a uniquely implemented unconventional programme designed to meet the demands of the 21st century job market. Through state-of-the-art teaching and learning methods, our students gain unique competitive advantages in the job market. In addition, for the first time in Egypt, accredited internships are provided throughout the academic career to blend theories with real life applications.
We are very proud that our curriculum does not merely fit with employers' needs but indeed exceeds employers' expectations.
Affiliation
Heliopolis University is affiliated with the SEKEM Group for sustainability and community development. SEKEM is a nationally and internationally successfully integrated enterprise with an ambitious vision of sustainability. Its four core dimensions are:
Science and Technology
Cultural, Spiritual, and Healing Institutions
Farm and Communities
Groups of companies producing organic products
We warmly invite all potential students' parents to visit the SEKEM farms for further demonstration of the holistic experience of sustainable development and for a deeper understanding of the education for sustainable development integrated value chain.