For their safety and comfort, Heliopolis University offers a reliable and efficient bus service for its students and staff members. Our fleet of buses has over 15 different routes that serve three governorates: Cairo, Sharqia, and Ismailia. We continuously expand our service with growing ridership.
The transportation fleet is highly equipped with modern air-conditioned buses that transmit students and staff members to and from the university campus. The current routs serve the following areas: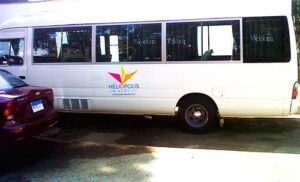 Cairo:
Heliopolis
Nasr City
First and Fifth Settlement, New Cairo
Al Rehab City
Madinaty
Obour City
Abbassia
El-Haram
Ramses
Mohandessein
Sharqia:
Zagazig
Abu Hammad
Belbeis
Menya El Qamh
10th of Ramadan
Ismailia
Ismailia Governorate Headquarters
For more information about the routs and meeting points, please visit our Students Services Office at the Students Affairs Building or call Mr. Ahmed Nassar 01200540062.